PK Bern Erupted #5 powered by CATURIX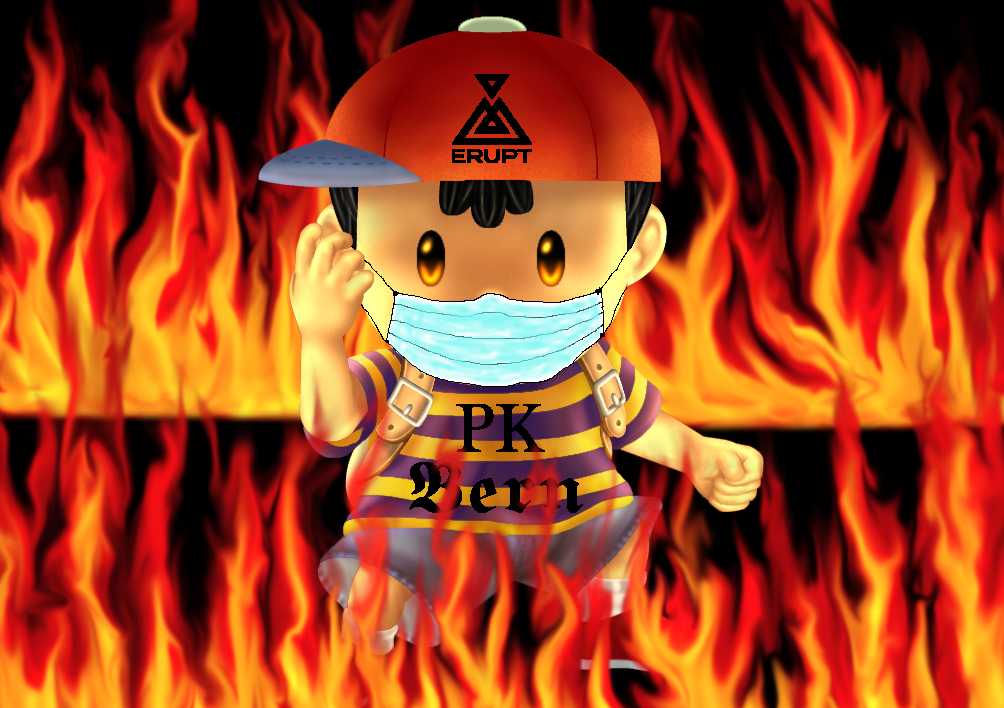 Saturday, 04 December at 13:00
Start date
Friday, 03 December at 13:00
Online registration deadline
Erupt, Parkterrasse 14, 3012 Bern
Location
>>> Join us for the next bigger SSBU tournament in Bern in the new ERUPT lounge! <<<
Safety
We are still not taking COVID-19 lightly. We will do our best to provide you with a safe environment. Do not take part in the tournament if you feel sick or think the risk of infection is still too high.
You must bring a valid COVID certificate and an ID to be allowed to enter the ERUPT lounge
.
Tournament type
We will play a big Double Elimination (Pro Bracket) tournament and start an Amateur Bracket as soon as half of the players has dropped out. The seeded list of players will be posted on Discord 24h before the tournament begins.
Prizes
The top 3 of the Pro Bracket will get the money from the prize pot: ~60...248.- (60/30/10%)
Matches
All matches Best of 3 and the finals Best of 5 (if not otherwise defined).
Fee
The registration fee (20.-) includes a free soft drink (33cl).
Rules
Please check out the rules you can find under
Rules
.
Location
The ERUPT lounge is located near the railway tracks at the central train station. Just take the elevator to the "Grossen Schanze" into the
third floor
.
Important
Do not forget to bring your controller and the registration fee. Please also bring your Switch and if possible your docking station.
If you play with a GameCube controller, you have to also bring the necessary adapter and if you play with a ProController also bring an USB cable (Type C) for easier pairing.
Tournament start
The tournament start is as described in the Details (13:00) but you may come a little earlier (max. 30min) to help preparing the game stations and play some friendlies.
The first official matches are estimated to start 15-30mins after the tournament begin.
Links
Livestream:
https://www.twitch.tv/swisssmash
Brackets:
https://challonge.com/de/users/yoshi20/tournaments
ERUPT:
https://www.erupt.ch/
Seed

Name

Canton

Mains

Setups

Fee paid?

1
SIR | Jaka
SIR | Jaka
Brought 1 setup
2
colinmee
colinmee
3
toba
toba
4
SIR | chäsi
SIR | chäsi
5
Yuno

Yuno
6
Strince
Strince
7
Ehrenmann | Coconut
Ehrenmann | Coconut
Brought 1 setup
8
NoahDaniel
NoahDaniel
9
SBZ | OBG | Jas1n
SBZ | OBG | Jas1n
10
Yomi
Yomi
Brought 4 setups
11
Asuma

Asuma
12
SBZ | TheComet
SBZ | TheComet
13
SC | Tek
SC | Tek
14
Dams
Dams
15
WT | MrKnister
WT | MrKnister
16
LECKERMAN
LECKERMAN
17
SBZ | Deazy
SBZ | Deazy
18
SBZ | Negative
SBZ | Negative
19
mYi | TaDavidID
mYi | TaDavidID
Brought 1 setup
20
Shiro
Shiro
21
H.D.M.P
H.D.M.P
22
SBZ | RAM
SBZ | RAM
23
SC | Josiko
SC | Josiko
24
SBZ | DonManuel
SBZ | DonManuel
25
Aspirin
Aspirin
| Ranking | Name | Points | Matches | W/L |
| --- | --- | --- | --- | --- |
| 1st | SIR | Jaka | 300 | 5 | 100.0 % |
| 2nd | colinmee | 250 | 6 | 52.63 % |
| 3rd | toba | 200 | 6 | 65.0 % |
| 4th | SIR | chäsi | 150 | 5 | 53.85 % |
| 5th | Strince | 100 | 5 | 50.0 % |
| 5th | SBZ | OBG | Jas1n | 100 | 6 | 56.25 % |
| 7th | Yuno | 75 | 4 | 40.0 % |
| 7th | NoahDaniel | 75 | 6 | 60.0 % |
| 9th | Ehrenmann | Coconut | 50 | 4 | 55.56 % |
| 9th | Yomi | 50 | 4 | 55.56 % |
| 9th | SBZ | Deazy | 50 | 4 | 50.0 % |
| 9th | Shiro | 50 | 5 | 54.55 % |
| 13th | SBZ | TheComet | 25 | 4 | 50.0 % |
| 13th | LECKERMAN | 25 | 4 | 44.44 % |
| 13th | mYi | TaDavidID | 25 | 4 | 50.0 % |
| 13th | H.D.M.P | 25 | 3 | 33.33 % |
| 17th | Asuma | 15 | 3 | 44.44 % |
| 17th | SC | Tek | 15 | 2 | 0.0 % |
| 17th | Dams | 15 | 2 | 33.33 % |
| 17th | WT | MrKnister | 15 | 2 | 20.0 % |
| 17th | SBZ | Negative | 15 | 3 | 33.33 % |
| 17th | SBZ | RAM | 15 | 2 | 20.0 % |
| 17th | SC | Josiko | 15 | 2 | 20.0 % |
| 17th | SBZ | DonManuel | 15 | 3 | 33.33 % |
| 25th | Aspirin | 10 | 2 | 0.0 % |